Professional Yard Drainage Solutions in Dayton, OH
Providing Dayton, OH and Surrounding Areas With Affordable Yard Drainage Solutions

Beavercreek Landscape has been installing drainage solutions for homeowners in the Dayton, Ohio region since 1976.
Over the years we have perfected our skills with the help of new technology and better equipment. If you have standing water in your yard from downspouts or wet areas from your sump pump, let us help fix your drainage problems.
Common Drainage Issues in Your Yard
There are several signs that you are experiencing drainage issues in your yard. Some are easier to spot than others, but all forms of standing water are capable of causing significant damage to your home or yard. The following are some common drainage problems we encounter:
Standing water or puddles long after it rains
Soggy ground that never properly dries out
Signs of erosion
Dirt and ground covering that collects on the driveway and walkways
Puddles in basement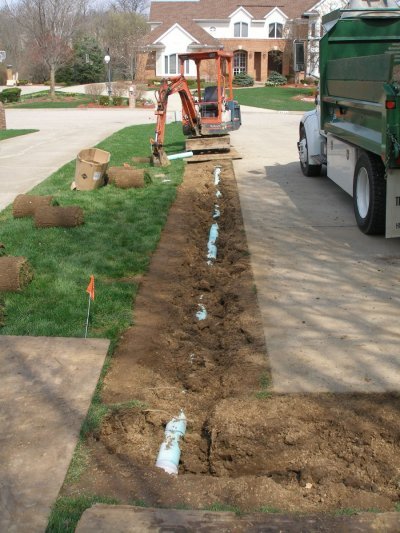 How to Fix Landscaping Drainage Problems
We can connect a drainage system to all of your downspouts, your sump pump or install a French drain to solve your water problem. Most of this is accomplished by burying the pipe underground to move the water to a new location. Water always runs downhill, and we install drains and pipes to move the water away from the problem area.  
We can work closely with city engineers to find the best solution for what to do with the water. We can drain the water away from your house or wet spot to another part of the yard that has more slope for the water to flow away from the property. In some cases, we can connect the drainage system directly to the storm drains.  
French Drain Solutions
A French drain is a system of trenches filled with gravel and corrugated piping that is strategically placed to direct water along the natural slopes of your yard. They have been used for centuries and are still one of the most effective drainage solutions for homeowners today.
How To Install A French Drain
 Analyze the topography of your property to find the best route for the drain.
 Dig a trench for the pipe using an excavator. This is a small machine but perfect for jobs with confined spaces or to get through narrow gates. If we have more room to work with, we can use a larger excavator, which will get the job done twice as fast, but sometimes the space is minimal.
 Laser-level the grade of your yard. We have a motorized rotary laser level that has a 360-degree rotating head. It casts a laser in a straight line that is accurate to 1/8" in 100'. This laser allows the excavator operator to dig knowing he has the right amount of slope for the trench to flow downhill.
 Install a solid PVC pipe. It is glued together in 10' sections. Using a solid pipe gives you better control of the fall or grade of the pipe to ensure it always flows downhill in a smooth straight line.
 Finally, fill the trench with gravel, which helps collect and move water away from your property, and re-sod or place groundcover over to conceal the drain.
Our expert landscapers have years of experience installing French drain systems for homeowners of Dayton, OH. We can repair or replace existing drainage systems that are no longer working properly.
If you want a professional team to install your French drainage system, contact Beavercreek Landscape and schedule a no-obligation appointment.

French Drain Installation Cost in Dayton, OH
According to HomeAdvisor, the most recent national average to install a French drain system is anywhere from $30 - $100 per linear foot.
This is a very broad estimation, and the truth is every situation is different. French drains are one of the simplest and cost-effective drainage solutions for homeowners, but certain factors may affect the cost of installing a French drain. If space doesn't allow heavy machinery to access your yard, it may take more man-hours to complete a job.
For a free and accurate cost estimate, call Beavercreek Landscape and Nursery.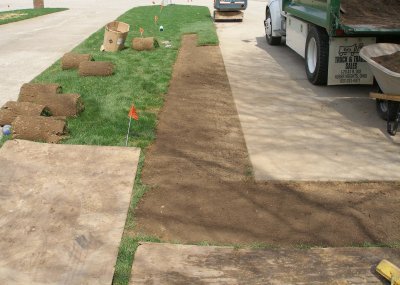 Catch Basin Drainage
We can install catch basins on properties with drainage problems as well. Catch basins collect water in poor drainage areas. Catch basins are water-tight and direct water to another location (similar to a French drain).
Channel Drainage
Another option to fix yard drainage issues is to excavate the soil to create a channel. This allows water to naturally flow off the property. The opposite of this would be to add a mound of soil and create a berm to keep water from entering the property. All of these options would be based on your location and the amount of space you have to work with.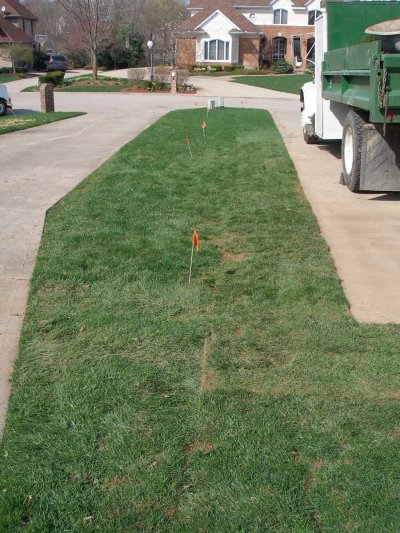 We Guarantee to Leave Your Yard as Clean as We Found It
When we come to do a drainage job, we try to make as little of a mess as possible. Depending on the size of the drainage project, large equipment may be required to complete the job. As a landscape company, we are experts in lawn restoration. We can reseed or sod the area to make it look like we were never there.
Ready to get started on your project?